Our Business
Wide varieties of technologies at our disposal enable us to design transportation systems through many stages including their development and after-sales services.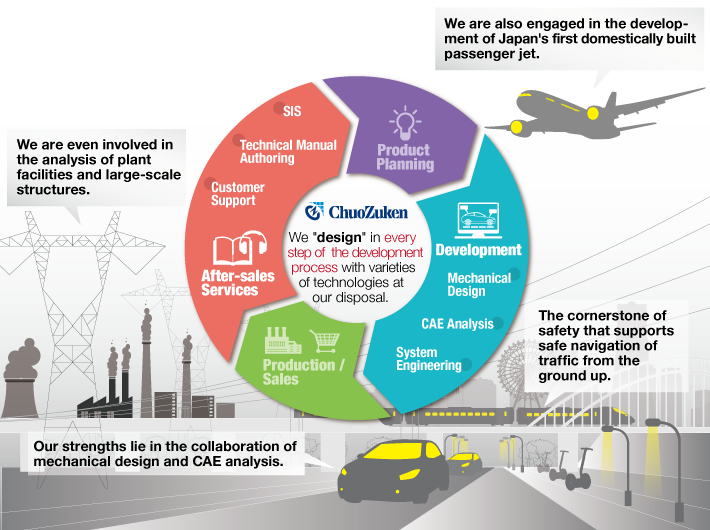 We are also engaged in the development of Japan's first domestically built passenger jet.
Many of our engineers are involved in the design and strength analysis of said aircraft.
We are involved extensively in customer support that supports operations and maintenance, which is particularly important in the commercial aviation industry.
We are even involved in the analysis of plant facilities and large-scale structures.
We apply our CAE skills we have acquired through working with automobiles/aircraft to crash analysis of structures as well as strength analysis of pipes.
In recent years, a new need has arisen in the construction / civil engineering industry, such as the analysis of the collision of objects against a building after being blown by gusts.
Our CAE skills offer support to our customers across different industries.
The cornerstone of safety that supports safe navigation of traffic from the ground up.
We are one of the best in Japan in terms of skills, knowledge and accomplishments in creating technical manual management systems in compliance with the latest international standards.
Our strengths lie in the collaboration of mechanical design and CAE analysis.
Our team of mechanical design engineers are proud in their ability to come up with designs that meet the requirements in space, weight, cost, and production, etc.
Our team of CAE engineers receive the designs and optimize them on the computers by freely changing parameters such as shape, thickness, and dimensions in order to satisfy the requirements.
The existence of a powerful CAE team enables us to assist our customers in their development effort at most stages.
We "design" in every step of the development process with varieties of technologies at our disposal.
Development
Mechanical Design (Aircraft, Automobiles)

Body Design, Resin Design
Electronics Design, Engine Design

CAE Analysis (Aircraft, Automobiles, Plant Facilities)

Crash Analysis, Strength Analysis
Vibration Analysis, Thermo-fluid Analysis
Seismic Analysis, Optimization Analysis

System Engineering

Web System Development
Server/Client System Development
Stand-alone System Development
After-sales Services
SIS (Service Information Solutions)

System Architecture
Application Development
Information Architecture Development

Technical Manual Authoring (Aircraft, Automobiles)

Digital Manuals
Manuals in English

and more

Customer Support (Aircraft)

Various Support Services for Aircraft