O&M Solution
O&M: Operation and Maintenance
Now is the time to undertake "Information Infrastructure Development" to shift from "Monozukuri" (product development) to "Kotozukuri" (value creation / story creation)!
- Solutions to survive in the era shifting from "Monozukuri" to "Kotozukuri" -
The manufacturing industry of Japan has competed on superior-quality and high-performance "Monozukuri" for a long time, and has built the top-level position in the world.
However, as you already know, markets and customers are not satisfied only with the excellence and quality of products these days.


The major battlefield of development race has turned 180 degrees.
Why don't you make your products / services more competitive with a synergetic effect of high quality "Monozukuri" of Japan and "Kotozukuri" which adds utility value to products?
The reason why your precious and good products cannot be linked to Kotozukuri is because "the environment that enables you to effectively apply information to Kotozukuri" is not prepared.



Kotozukuri efforts of global enterprises
The world-famous leading manufacturers have taken initiatives to develop infrastructure that enables the best use of product / user information.
For example, Apple Inc.What people chose was the user-friendly "iPhone", which has the infrastructure that offers simpler operation, more beautiful design, and flexibility to enjoy music and photos more freely, than the flip phones released by Japanese companies.
It is a good example of success achieved by the manufacture of product based on the real and fresh user information instead of the function or quality of the product itself.
The key to realize Kotozukuri is to get the timely information, without missing or delay.
Development department shall lead Kotozukuri
The manufacturing industry of Japan has competed for a long time in the field centered on "production engineering", which is shown in the center of the "Smiling Curve" in the diagram below.
However, the development field in Kotozukuri covers not only technology and manufacture in factories but also "Plan" and "After-sales service". This is the new definition of development.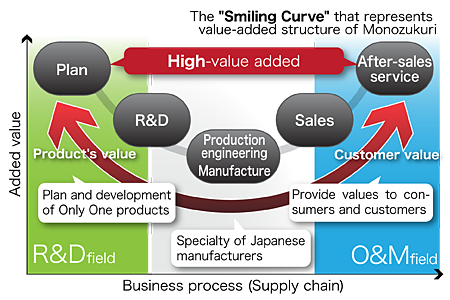 To realize "Plan" of Only One products and "After-sales service" to give some extra values to users, seamless information transmission considering a wide variety of users is essential.
O&M: Operation and Maintenance
R&D: Research and Development
What is a seamless information transmission?
Let's effectively utilize enormous information that is generated consistently, in "After-sales service" and "Plan".
For example, ...

After-sales service

Collect and analyze maintenance records and information on how users used the product and whether the users were able to use the function appropriately.

-->Provide information for users to utilize the product's performance and function sufficiently.

Plan

Effectively search and analyze operation / maintenance information of products and user needs information

--> Develop the next version of product suitable for the usage environment of users

Our suggestion is the implementation of an information management structure, which has already been the standard in the aircraft industry
The aircraft industry, which is the accumulation of global enterprises and human resources, is going in advance in the structure building of Kotozukuri.
By merging our know-how of after-sales services cultivated in the aircraft industry for approximately 40 years and the enterprise system that is indispensable for the information management structure, we will implement an information management structure to your company.
We will clarify the customer's requests and problems through elaborate interviews, and suggest implementation and operation procedures of this solution.


Our services based on extensive experience in O&M field
Technical Manual Authoring

Technical Writing
Technical Translation (English to Japanese, Japanese to English)
Technical Illustration Creation
Electronic Manual Production (XML/SGML, etc.)

We have the know-how of technical documentation in accordance with international standards (S1000D / DITA / XML)
We can provide high-quality STE-compliant technical authoring *There are many ASD certified STE specialists in Chuozuken
STE: Simplified Technical English

System Engineering

Web System Development
Server/Client System Development
Business Operations Support System Development

We will select and suggest the optimum software
We will support implementation and operation of software and system

Customer Support (Aircraft)

Technical Support for Overseas Customers
Spare Parts Control

We have accumulated the knowledge pertaining to the manufacturing industry's principles of being devoted to sites, products and reality.

Software Sales and Infrastructure Building Service

PTC Arbortext
Raytheon EAGLE

We have experiences of software implementation support intervening between manufacturing companies and software vendors.

<Service Detail>

EPS (EAGLE Publishing System) Sales and Introduction Support Service(*Jump to another site)

Contact Information
For more information, please feel free to contact us directly.
| | |
| --- | --- |
| TEL | +81-52-323-8001 (Direct) |
| FAX | +81-52-323-2007 |
| E-mail | info@chuozuken.co.jp |
| Please use the web form | |
| Contact | Nishimura, O&M Solution Section |